Gabapentin, also known by the brand name Neurontin, is a prescription painkiller belonging to its own drug class, Gabapentinoids.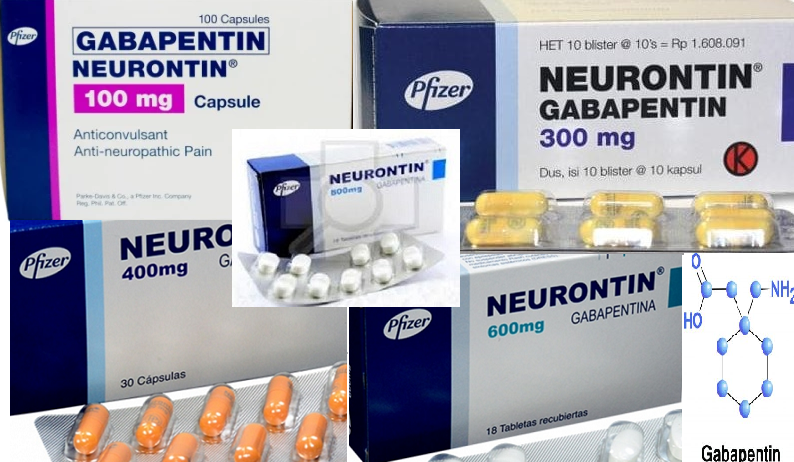 It is considered an anti-convulsant, and is most commonly used to treat epilepsy, restless leg syndrome, hot flashes, and neuropathic pain. It is often used as a less-addictive alternative to opioids; however, Gabapentin addiction and abuse still occur in many patients.
Gabapentin has  a similar chemical structure to Gamma-aminobutyric acid (GABA), the brain chemical which affects the body's nervous system. It can produce feelings of relaxation and calmness, which can help with nerve pain, anxiety, and even poor sleep.
Gabapentin is prescribed to treat nerve pain, alcohol and cocaine withdrawals, restless leg syndrome, diabetic neuropathy, fibromyalgia, and seizures. It works by altering one's calcium channels to reduce seizures and ease nerve pain. Some brand names of Gabapentin are Neurontin and Gralise. The drug's known street names are "gabbies" or "johnnies."
In addition its potentially addictive nature, Gabapentin can cause suicidal thoughts, moods swings, and abrupt changes in a user's behavior. It can also cause elevated blood pressure, fever, sleep problems, appetite changes, and chest pain.
Effects of excessive Gabapentin use include:
Drowsiness
Coordination problems
Tremors
Dizziness
Depression
Suicidal thoughts/behaviors
Changes in mood
Dizziness
Poor coordination
Forgetfulness
Anxiety
Difficulty speaking
Inability to feel pleasure
It is important to try to recognize these symptoms and to be wary of other red flags, such as the presence or abundance of pill bottles. These effects can be detrimental to one's health, livelihood, and overall safety.
Many Gabapentin users in early recovery abuse Gabapentin because at high doses (800mg or more), they may experience a euphoric-like high that does not show up on drug screens. Gabapentin abusers typically take the drug in addition to opioids to produce their desired high, a dangerous and potentially deadly combination. It is possible to fatally overdose on Gabapentin, both on its own or in conjunction with other drugs. However, there is currently no antidote that can be administered to someone in the case of a Gabapentin overdose as there is with opioid overdoses. If you find a loved one showing signs of an overdose–drowsiness, muscle weakness, lethargy and drooping eyelids, diarrhea, and sedation—seek medical attention immediately.
Signs of Gabapentin Addiction
Lying about or exaggerating symptoms to doctors
Seeking out multiple doctors to get extra doses
Switching doctors after the original doctor refuses to continue prescribing the medication
Changes in social habits and/or circles
Changes in personal hygiene and grooming habits
Constant preoccupation with the drug
Unease at the thought of the drug being unavailable
Refusal to quit despite social, financial, or legal consequences
Failed attempts to quit
Lastly, withdrawal symptoms after stopping all use of a drug is an indication of addiction. This happens when a tolerance to the drug has developed, requiring a higher dose to achieve the same effect.
Gabapentin (Generic Neurontin ) is used to help control partial seizures (convulsions) in the treatment of epilepsy. This medicine cannot cure epilepsy and will only work to control seizures for as long as you continue to take it.
Gabapentin (Generic Neurontin ) is also used to manage a condition called postherpetic neuralgia, which is pain that occurs after shingles. It's also taken for nerve pain. Nerve pain can be caused by different illnesses, including diabetes and shingles, or it can happen after an injury.
Gabapentin (Generic Neurontin ) works in the brain to prevent seizures and relieve pain for certain conditions in the nervous system. It is not used for routine pain caused by minor injuries or arthritis. Gabapentin is an anticonvulsant.
Occasionally, gabapentin (Generic Neurontin ) is used to prevent migraine headaches. Gabapentin (Neurontin) and pregabalin (Lyrica) are anticonvulsants and nerve pain medicines which have structural similarities to the inhibitory neurotransmitter GABA.
Gabapentin (Generic Neurontin ) is available only with your doctor's prescription.
Gabapentin (Generic Neurontin ) is available in the following dosage forms:
Capsule
Tablet
Tablet, Extended Release, 24 HR
Solution
Suspension
Gabapentin (Generic Neurontin ) was developed in 1993 and has indications for shingles ('postherpetic neuralgia') and partial-onset seizures. It has had a growing popularity in off-label uses for fibromyalgia, pain from a variety of causes, migraine, cocaine withdrawal, anxiety, and insomnia. A related compound, gabapentin encarbil (Horizant), is approved for shingles and restless leg syndrome. Pregabalin was developed in 2004 and is approved for nerve pain from diabetes and spinal cord injuries, fibromyalgia, and adjunctive treatment of partial-onset seizures. Although prescribed off-label for anxiety in the U.S., it is approved for this purpose in the U.K., where it is sometimes called the 'new Valium'.
As tolerance continues to build, the brain further adjusts its own chemical output to compensate for the effects of the foreign substance.
The higher the dose an individual adjusts to, the worse the withdrawal symptoms will be. Common gabapentin withdrawal symptoms include:
Anxiety or depression
Irritability
Changes in appetite
Crying spells
Fatigue
Headache
Nausea
Dizziness
Insomnia
Restlessness
Itching
Muscle pain or spasms
Abdominal pain
Sweating
Seizures
Suicidal ideation
Treating a Gabapentin Addiction
Frequent and excessive use of Gabapentin can lead to a physical and psychological dependence on the drug. This is when someone becomes so accustomed to taking a drug that they need it to feel and function normally. Quitting a drug like Gabapentin cold turkey can be dangerous and induce several withdrawal symptoms of varying severity.
These include anxiety, insomnia, nausea, pain, and sweating. Quitting also increases one's likelihood of having a seizure which can lead to personal injury or the development of medical problems and life-threatening emergencies. Trying to quit should be done at a rehab facility or with the guidance and supervision of a professional during a medical detox.
(Visited 17 times, 1 visits today)